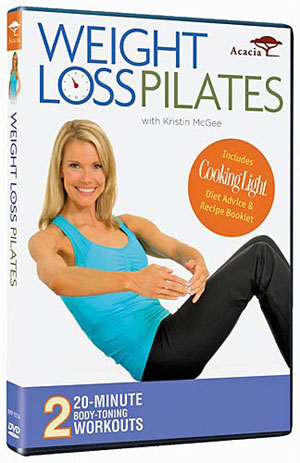 I'm so sore after two days of doing Acacia's Weight Loss Pilates DVD. But the good news is that I'm sore in places that really need tightening up. Does anyone actually think that Pilates is a "girly" workout? If so, then he or she needs to give this DVD a try.
I haven't done a lot of Pilates (being more of a yoga person), but what seems to be different about this DVD is that the workouts contain some cardio. The instructor, Kristin McGee, leads you through traditional mat exercises then revs it up a little to get your heart rate moving.
The DVD contains two 20-minute workouts. If you do them with the warm-up and cool-down, each workout is 33 minutes. If you want a longer workout (which I never do), you could do them both at once. It would take you less than an hour and you'd be doubly sore the next day. Bonus!
The mat workout section features Pilates classics like the 100s and double-leg pulls. Two moves in particular are really effective (read: painful). One involves standing in a wide squat with your hands behind your head moving quickly from side-to-side. It wasn't that bad at the time, but the next day—oy! I could really feel it. Which is a good thing because it's hitting that dratted muffin-top area. The one that made me beg for mercy has you sitting on the floor in what Kristin referred to as "mermaid" position. You then lift your top leg up and down and back and forth. Ouch! But I kept going by envisioning that little dent you can get in the gluteus maximus area.
I like the cardio sections a lot. And not just because they're a welcome relief from the mat exercises. Which they are. Your secret inner dancer will enjoy the plies. There are jumping plies and grand plies, as well as Pilates jumping jacks and running planks. My heart rate went up and my legs burned. Mission accomplished.
Kristin's instructions are easy to follow. She provides the right amount of encouragement in a tone that's mellow and not too chirpy.
As usual, I rented this DVD from Netflix to check it out. It's definitely one that I will purchase for the permanent collection. You can go here to buy the DVD at Amazon. Give it a peek and see what you think here: