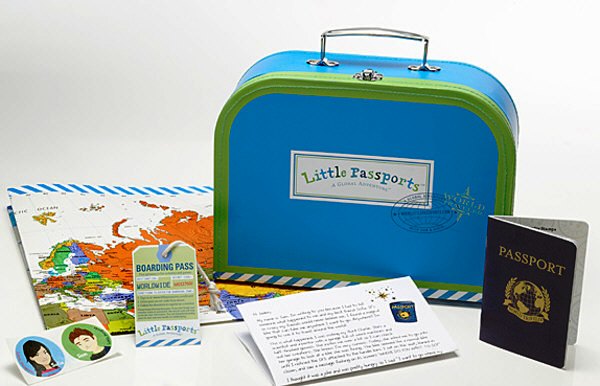 I want to inspire my children to be curious about the world we live in and to appreciate different cultures and traditions from around the globe. So I was very happy to come across Little Passports.
Little Passports was founded by two moms in San Francisco whose goal was to create a fun way for kids to learn about world geography, history, culture, and language. They had the clever idea of combining the excitement of getting a package in the mail with the online technology that our savvy kids are so familiar with.
Here's how it works:
Shortly after you sign up for a subscription to Little Passports, your child will receive a cute little French suitcase in the mail. The Explorer Kit, as it's called, is filled with lots of well-designed goodies, including a world map to hang on the wall, a travel passport, stickers, an activity sheet, and an official Boarding Pass with a secret code to access an online Boarding Zone full of games and activities.
The kit also contains a letter from Sofia and Sam, our globe-trekking tour guides. The letter explains how Sam found a magical scooter in his inventor-aunt's garage that can take him anywhere in the world he wants to go. He and his friend Sofia came up with the idea that it would be fun to write letters and send gifts to pen pals during their travels.
Every month Sam and Sofia send your child an adventure package from a new country. The package includes a letter from Sam and Sofia, an activity sheet, a real photo from the country, a stamp to put in the passport, a map marker, a suitcase sticker, and a collectible boarding pass to access additional online games and activities. And a souvenir is included each time. This is what my kids are most excited to get. A real amethyst from Brazil, a 3D double-decker bus puzzle from England, and a toy camera with pictures from a South African safari are just some of the mementos.
Ideas for Using Little Passports
The sky's the limit for how you incorporate Little Passports into your child's life. Here's what we did with the Japan kit, featured above.
Lexie visited the Little Passports website and printed out an album of photos with interesting facts about different places in Japan. She also created a wish tablet (ema) to hang in a virtual Meiji shrine, and took a quiz that figured out her ideal Japanese menu.
She and Lily loved the origami kit and made different animals for us to try to guess correctly.
Will wasn't terribly interested in the origami kit, but he zoomed right in on Mt. Fuji. He shared information from Sam and Sofia's letter about the last time the volcano erupted and presented some research he'd done on his own to learn how tall the mountain is. He also found information about Japan's Shinkansen, or bullet train.
Lily was in charge of placing the stickers in the appropriate places: one on the suitcase, one in the passport, and one on the map. She also found as many Hello Kitty items as she could around the house for show-and-tell.
There was a bit of squabbling over the sushi eraser, but it was resolved when I said that whoever got the sushi eraser had to eat raw fish. I made extra copies of the activity sheets so they could all do the crossword puzzle.
(photo via Ambitious Deliciousness)
We capped off the adventure with a special Japanese dinner. The kids helped me make a simple gyudon beef bowl recipe that I found online here. I also picked up some California rolls and green tea ice cream at the grocery store. If you're feeling ambitious, you could make your own sushi. There's a great how-to at Ambitious Deliciousness. Some of my children are more adventurous eaters than others, but at least they're all being exposed to new things!
It really is a treat to get a new package in the mail each month. We've enjoyed learning about lots of different countries and look forward to seeing where Sam and Sofia take us next.
[Andrew, at 12, is a bit older than the targeted ages for Little Passports (5‒10) but he can still participate. During dinner we enjoyed trying to remember what we could from our brief stop at the Narita Airport in Tokyo in 2005. It's amazing what he's retained.]