Tomorrow we begin one of our favorite holiday traditions: the Advent Box. Our box came from Restoration Hardware ages ago, but nowadays you can find Advent boxes at Target, Walmart, and lots of other places. You could even make one of your own by stringing up baby socks like this:
Or ordering one like this on Etsy that you just print out and assemble: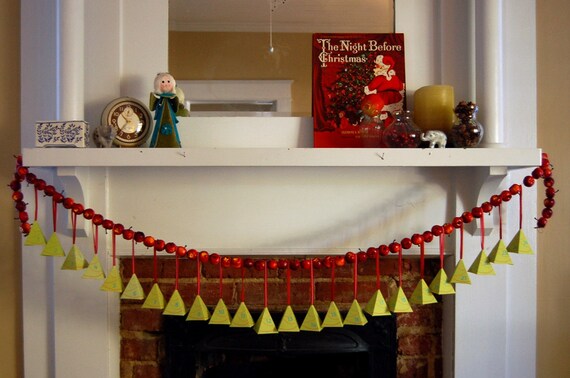 Every year, the kids take turns opening one of the little wooden doors in our box. Inside are four candies (usually Hershey's kisses or Reese's mini peanut butter cups) and a little slip of paper with the day's activity. The activities have changed over the years—when the kids were very small there was a lot of glueing of paper candy canes and that sort of thing. Now I can let them loose with more sophisticated projects like planning St. Lucia's Day (Lexie's specialty, which I can't wait to share with you next week).
We also open a Christmas picture book every day to read during Advent. The books aren't new, but it's fun to unwrap them and everyone has his or her favorite.
Here are some of the things I'm planning to do this year or that we've done in the past. Since this is my first year blogging I don't have links to anything yet, but I'll add them as the month progresses. If you have any ideas, please share them because I'm always looking for new things to do.
Advent Box Activity Ideas:
Cut out paper snowflakes (we usually do this early on to decorate the dining room windows)
Make a gingerbread house
Decorate the tree
Host a cookie exchange party
Make cookies (we usually have more than one day of this)
Make crafts
School Christmas or band concerts
Visit Santa
Make Sibling Gifts
Make peanut butter ornaments for the birds
Make Dad's Christmas biscotti
Decorate the girls' Christmas tree
Go sledding
Go ice-skating
Make food for the reindeer
Make a Swedish Kringla
Celebrate St. Lucia's Day
Watch Elf with popcorn and hot chocolate
Pappaw's Christmas visit
Assemble Christmas cards
Assemble and mail Christmas packages
Make gift tags
Visit the Nativity
Grammy's Christmas Concert
Make Ice Cream trees
Build a Snowman
Make Nutter Butter Santas
Practice Christmas Play
Host a Christmas sing-along
Go shopping for the Christmas Family
Drive around and look at Christmas lights
Visit the Christmas display at Macy's
Play Christmas songs on the piano at the nursing home
Go to the Holidazzle Parade
Make treats for the dogs
Wrap presents
Make winter ice candles
Bring treats to an animal shelter
Go to a Christmas movie
Host a gingerbread house-making party
It's Christmas Eve!
Merry Christmas!
Some days all I can manage is a joke: "What do you get when you cross a snowman with a vampire?" Frostbite. Or "What do Santa's elves learn in the North Pole school?" The elfabet.