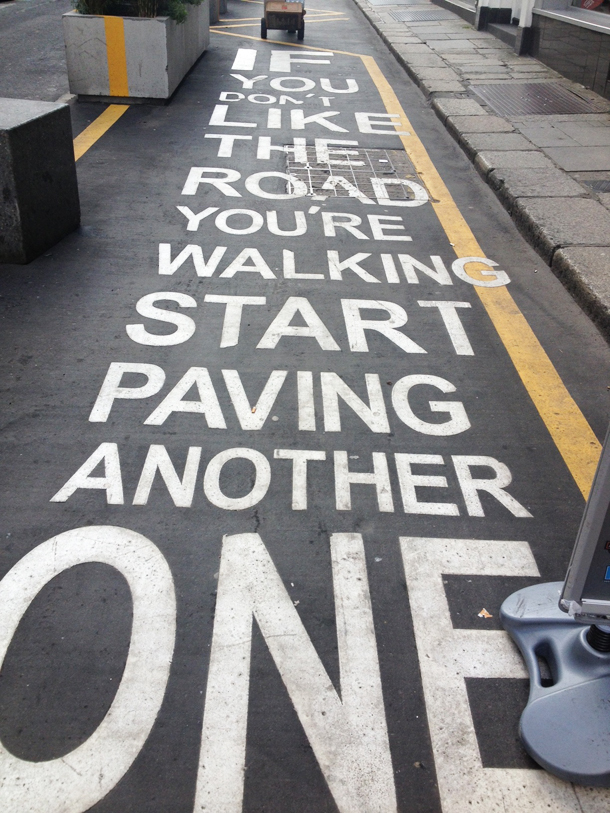 I came across a lovely blog this week called From China Village. The author had left a comment on Design Mom linking to her own post about street wisdom in Dublin. Of course I had to go check it out since she used two of my favorite words—Ireland and China—in one sentence!
I'm so glad I did because the blog is a celebration of all things Irish, with great-looking DIYs and recipes to boot. My father's family is Irish to the core (with a hint of Dutch on Grandma Charlotte's side), so I grew up with a love of Irish culture, stories, music, and food. And a strong desire to visit the Motherland some day!
This particular post is about the street art that Emily stumbled upon one day while out walking the streets of Dublin. I love the idea of going out for a walk or running errands and suddenly getting an inspiring message from the Street Gods.
And then I started thinking about what message I would write on a road (or, in my case, driveway). It could be a good old "carpe diem" kind of thing to send family members on their way:
"Be bold and mighty forces will come to your aid." Nietszche
"Insist on yourself; never imitate." Ralph Waldo Emerson
"Have fun storming the castle!" The Princess Bride
"Don't let the muggles get you down." J. K. Rowling
Or I could write a message at the top of the driveway facing toward the house:
"Once again…welcome to my house. Come freely. Go safely; and leave something of the happiness you bring." Bram Stoker 
"There is nothing like staying at home for real comfort." Jane Austen
"A man travels the world over in search of what he needs and returns home to find it." George Moore 
What do you think of Dublin's street quotes? If you could write a message on any road, where and what it would be?
P.S. I'm posting one of Emily's Dublin Street Photos but you should go check out From China Village to see more. I'm planning to spend some time visiting the blog, especially now that it's March and we'll be thinking about St. Patrick's Day!